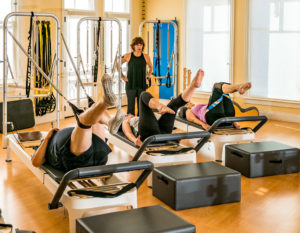 Pilates Fitness Training ~In addition to conditioning your entire body, will teach you about proper body alignment, posture, breathing, and how to have more control of your body. It will help you gain more awareness and control of your intrinsic muscles as well as your global movers. It will help you increase your core strength as well as your flexibility.
There is practically no limit to the continued improvement you will achieve as you practice Pilates. The variety of exercises insure constant challenge to the body and brain. Pilates can be practiced on a Mat or using various pieces of apparatus originally designed by Joseph Pilates. The Reformer, Trapeze Table, Tower, Chair or Ladder Barrel. Many of these use combinations of either springs and/or a pulley system to create resistance, to isolate and train specific muscles in the body.
Pilates is ideal for anyone continuing to rehab from their injuries. Private instruction is recommended before coming into any of the pilates group classes with some exceptions.  Appointments are mostly scheduled in the studio, but can also be offered through Skype or Zoom for you in your own setting.
Hendrickson Orthopedic Massage and Manual Therapy ~ Uses massage techniques, joint mobilization and contraction and relaxation of muscles to reduce pain and improve joint function. Sessions can be single or integrated into your Pilates session with Ava. What to expect: You are clothed in exercise attire and put into a comfortable position on a massage table. Communication between you and practitioner assists with muscular skeletal change. As muscles are released and range of motion is gained, appropriate Pilates exercises can be introduced to strengthen your body's new alignment and flexibility. Offered at the studio by Ava Motter (certified Hendrickson and California massage practioner) by appointment only.
**Please note that some of the classes listed may not currently be offered on our schedule.
Pilates Basics on the Mat – This is a beginning Pilates mat class that focuses on what you need to know as a beginning student. No equipment is involved, some props may be used. Great class to take as a precursor to a beginning reformer class, for someone just getting back into exercise, or for someone wanting a more basic class. Detail to proper biomechanics and breath.
Pilates on the Mat ~ Discover your strengths and weaknesses. This class is for full-body conditioning emphasizing core strength, flexibility, and breath.  A variety of props such as balls, foam rolls, bands, or magic circles may be used.  For all levels.
Pilates Reformer Level I  ~ A class on the Reformer that focuses on full-body conditioning, core strength, flexibility, and breath. You will move through basic exercises on the Reformer, and Chair and Tower may be used as well. Close attention is paid to proper body alignment.
Pilates Reformer Lev I/II  ~ A class on the Reformer that focuses on full-body conditioning, core strength, flexibility and breath. This class requires that you already have  knowledge of the basic Reformer exercises and are ready for more challenge. This class may utilize the Chair and Tower and Pilates Arcs as well. Close attention on proper body alignment.
TRX Training Small Group Classes ~ This class will help you increase over all muscular strength, endurance and flexibility. A class benefitting people of all levels from beginners to pro-athletes. Using TRX straps which are secured and hanging from the ceiling, you leverage your own body weight which allows you to control how much challenge to give yourself. Props may be used along with great music too!
Nia ~ Dance fusion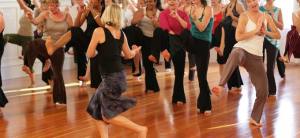 A fun, aerobic and sensory-based movement class that pulls from Dance, Martial Arts and Floor Play (Yoga, Pilates, stretching).  Each class offers a unique combination of movements and music that conditions and energizes the whole body. 
Mindful Vinyasa Flow Yoga ~ A group yoga class that moves through postures gracefully and consciously with breath and music is played.  A physical class that addresses both strengthening and flexibility. All levels welcome.
Relax & Unwind Yoga ~ A slower paced class focused on intentional breath, longer holds, and deep relaxation. Find the perfect closure to your day by coming back into your body, back to self. All levels welcome.
Find Your Flow Yoga ~ A dynamic vinyasa flow that combines physical and mental focus. Connect with your breath, challenge yourself, and maybe even laugh a little. Students can expect to raise the heart rate a bit, and end the class with deep relaxation. All levels welcome –modifications to scale up or scale down will be given.
Iyengar Yoga  ~ blends western anatomical and physiological knowledge with eastern transcendence. BKS Iyengar (world famous yoga master) introduced the sticky mat, yoga chair, yoga block and yoga strap and was both a pioneer and traditionalist in the Ashtanga Yoga teachings. Props will most likely be suggested. Besides the physical practice, benefits include emotional balance and mental peace! Levels  1 and 2.
Essential Fitness Series ~ Celebrating Movement with Essential Oils. The type of class is announced each month and is usually a donation class benefiting one of the organizations in Calistoga or it is free. Incorporates essential oils along with the movement practice that is offered. If scheduled, it will be listed on our Schedule.